By: Hayley Mundeva, Sprout Ideas Fellow 2017
Since July, I have had the privilege to be a Social Enterprise Fellow in TakingITGlobal's Sprout Ideas Fellowship program. Through this fellowship, myself and approximately twenty others have had access to working spaces and mentorship opportunities to help launch organizations that aim to address important social issues. I am working towards launching GH90, which is an employment agency that connects people to jobs and opportunities in the global health sector. This fellowship has exposed me to various facets of social entrepreneurship – from digital marketing strategies to legal advice to financial management – which has been invaluable for GH90's team since we are an early-stage social enterprise.
Through this fellowship, I also had the opportunity to recently share my experiences with a classroom of youth who are passionate about social innovation. On November 14, 2017, Celyn (another Sprout Ideas Fellow) and myself traveled to Jean Augustine Secondary School in Brampton where we spoke about our experiences with growing social enterprises. We spoke to two classrooms of grade 11 students, who are immersed in social innovation projects of their own.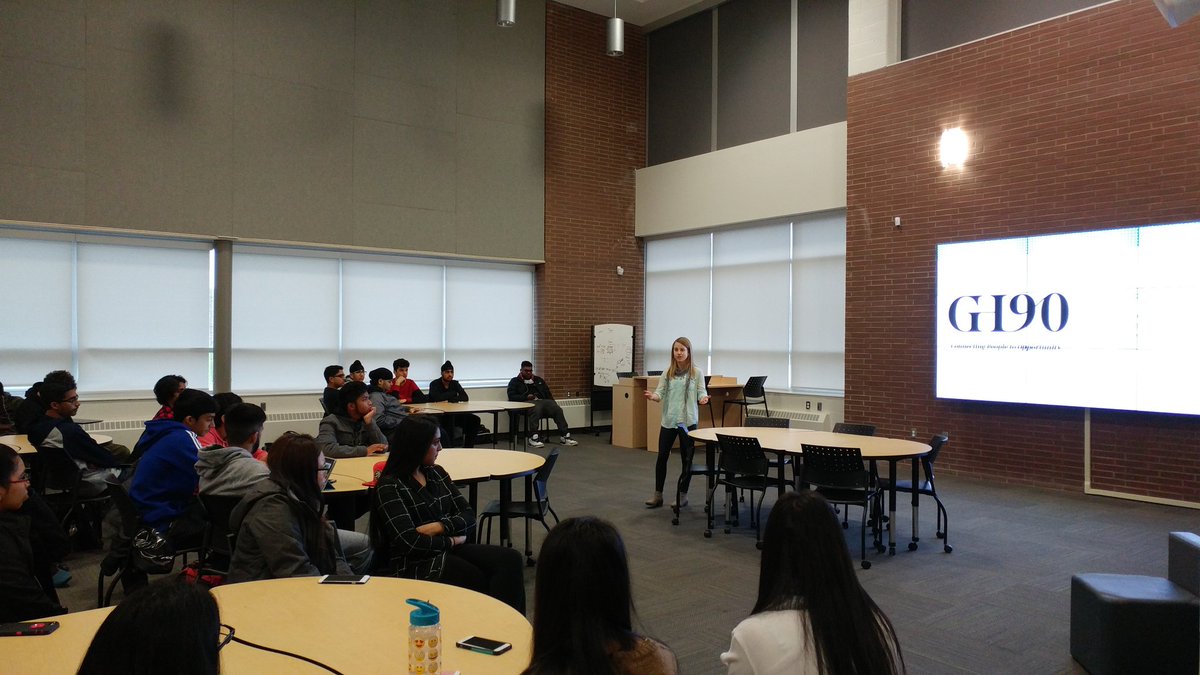 Meet @HayleyMundeva who started GH90, that aims to connect people to opportunity in Global Health pic.twitter.com/pptp0T0Rsc

— Sprout Ideas (@SproutYourIdeas) November 14, 2017
A major point that I wanted to convey is how important it is to fall in love with a problem, rather than an idea. In entrepreneurship, it's easy to get caught up in a new product or service that we want to introduce into the marketplace. But if that product or service is not addressing a pain point that people are actually experiencing, these business ideas will likely encounter a rocky start. As a result, I spent the first few minutes of the presentation simply discussing the problem I've encountered (in this case, how few resources and supports are available to help people who are launching a career in the global health field), and the opportunity I saw in building a social enterprise that could tackle that issue.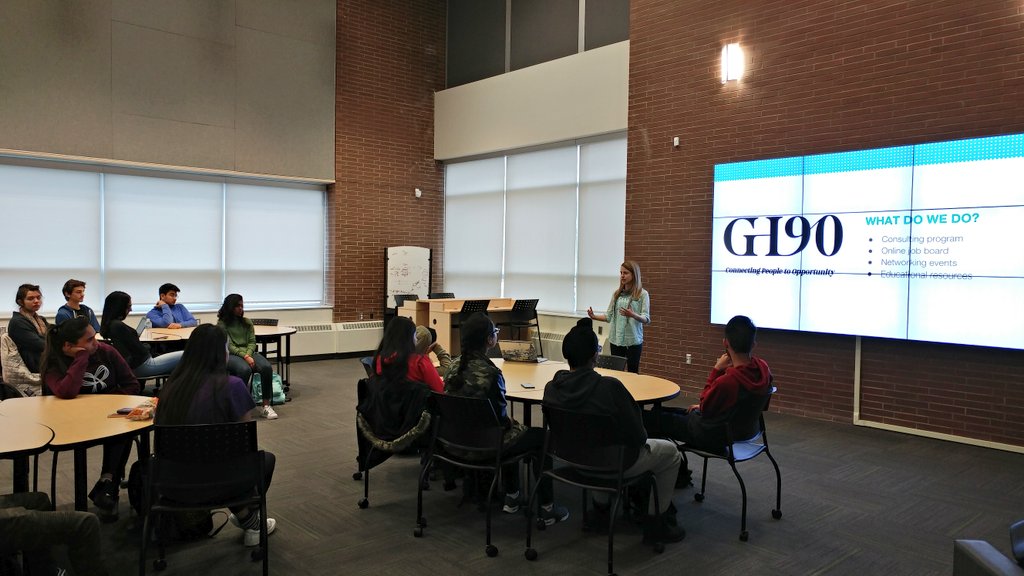 .@HayleyMundeva speaks to the "ah ha" moment in developing her social venture GH90 #SocEnt #innovation @JeanAugustineSS pic.twitter.com/jfLQS9WoJT

— Sprout Ideas (@SproutYourIdeas) November 14, 2017
Towards the end, I discussed tips on building successful social enterprises. For instance, it is so important to network regularly. This might seem intimidating at first, but I've found that attending networking events on a regular basis (i.e. a few times a week) makes it less daunting and actually quite enjoyable. In terms of discovering events to attend, I find Eventbrite and subscribing to newsletters to be particularly helpful. Another tip I had is learning how important it is to continually gather feedback on our work. As social entrepreneurs, we are always making assumptions and claims about what people's needs are. It's therefore crucial that we go directly to our customers to discover what their priorities are (this is why we are doing a thorough Needs Assessment at GH90). Once you have officially launched a social enterprise, this 'needs assessment' simply shifts to 'monitoring and evaluation.' Getting feedback never stops!
Another tip is how important it is to find mentorship. Mentors are really valuable because they can connect you to people in their networks and can share advice on things that we may simply not be aware of yet. I feel it's important to not just have one mentor, but several. I have mentors who are in different stages of their careers and are even working in different disciplines. That's the beauty of social entrepreneurship, you can really learn from almost anyone! Lastly, social entrepreneurs have to enjoy the process. Entrepreneurs are typically ambitious people. They have lofty goals. But sometimes it can take us longer to reach our objectives, or we can bump into obstacles along the way. We need to sometimes just take a step back, enjoy the process, and understand that it's really a continual journey of learning.
Great experience for our #JASSidc students today in the Centre for Social Innovation. Mentorship and advice from @celynbr and @HayleyMundeva as they share their #SocEnt projects and their partnership with @SproutYourIdeas and @takingitglobal #JASSlearns pic.twitter.com/gSutNHbrnf

— JASSinnovates (@JASSInnovation) November 14, 2017
My favourite part of the event was having an opportunity to sit down with the students at the end. Through small group discussions, we had a chance to hear the social innovation projects that they are currently working on. It was moving to hear sixteen year olds pitch ideas on how they are going to tackle big social issues, like mental health challenges in their high school, or food insecurity in their communities. I was incredibly impressed that their teachers are not only encouraging them to think about these issues, or to become part of an existing project that adults are spearheading, but to rather find ways to get directly involved. Too often, youth are left out of these discussions. Yet they have important voices in addressing these social issues.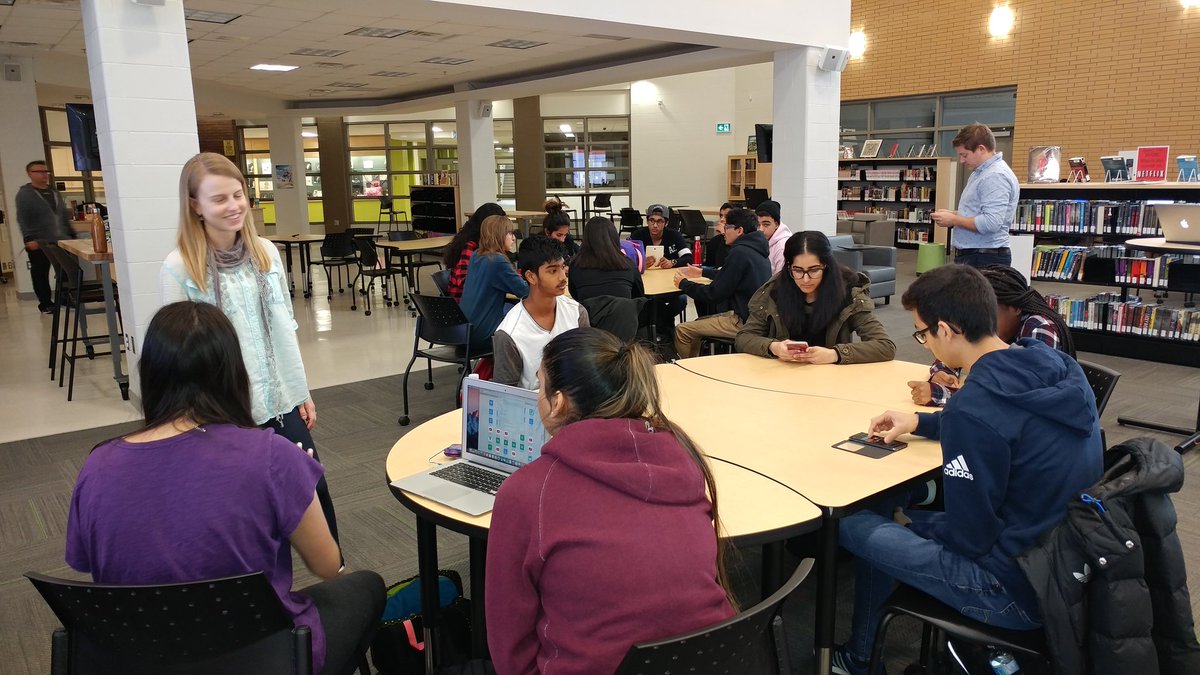 So inspired by the students @JeanAugustineSS working on social #innovation projects! #SocEnt @JASSInnovation @celynbr @HayleyMundeva pic.twitter.com/w5EC0LEOg2

— Sprout Ideas (@SproutYourIdeas) November 14, 2017
Overall, I found this presentation was a great opportunity to reflect more on social enterprises and how they are important vehicles in fighting complex problems. It was also a great way to reflect on the progress we've made during this Fellowship and to share some lessons learned. I want to thank Ronit for inviting Celyn and myself to speak, and Jessica for coming out to show support. This has certainly been one of my highlights of the Fellowship so far.
---
Find Hayley online: