'O Canada', a familiar phrase that rings true no matter where you are in the world. Canada has a sense of pride that is incomparable to any other in the world and why wouldn't we?
This July marked Canada's 148th birthday and to commemorate this moment TakingITGlobal used this opportunity to introduce our Digital Storytelling Card Deck. These cards feature original stories about places told through the eyes of youth. Using these cards our team took the opportunity to discuss and reflect on a few questions such as, "is there a place in Canada to which you feel a connection, but have never visited?" Or, "What travelling experiences in Canada have shaped your identity?"
These questions sparked a wonderful dialogue about what Canada really means to people across Canada.
With its dreamlike natural, geographic, and cultural diversity, Canada is a place that we here at TakingITGlobal value and appreciate immensely. So, what better way to celebrate than to visit places across Canada and share our stories and experiences!
This Canada Day our Explore150 team travelled across Canada to engage, share stories, and have a rockin' good time with youth from Halifax to the Yukon!
We on the Explore150 team believe that Canada has an extremely rich and meaningful history and judging by the enormous amount of people that came to celebrate with us on July 1 st, we can tell that you do too!
We had Youth Ambassadors and team members in Halifax, Ottawa, Toronto, Swift Current, High River, Coquitlam, and Whitehorse, where youth didn't only come with stories; they came with dedication, appreciation, and an incredible sense of creativity.
Our Francophone Engagement Coordinator, Karine Jacques, along with our Executive Director, Jennifer Corriero, were in Jacques Cartier Park and, despite the crazy weather, were able to connect with youth and their families regarding what Canada means to them! They spent all day drawing and discussing places in Canada that help them feel a sense of belonging and have contributed to their overall connection with this place we have all come to call home.
We also had Kathleen Appiah, one of our Youth Ambassadors, in Swift Current who was able to give a speech on Canadian identity and even had the opportunity to give an interview to her local radio station. After her speech she also had a booth set up where she was able to get people interested in some of the upcoming events that Explore150 is promoting!
We were also incredibly excited to have Jacqui Nash represent Explore150 in High River, Alberta. Last year, Jacqui was the winner of a photo essay contest that we held and we are so proud that she has chosen to join our team! This year she spoke to people about the various ways that they can engage in a dialogue surrounding Canadian identity similar to the way she did in her photo of the Canadian Rockies.
Although we had booths set up in various locations, some of our team members took to the streets! In Halifax, Keegan Eatmon and Jessie Jawanda, spearheaded street teams in the Public Gardens, Seaport Farmers Market and waterfront Boardwalk. They focused on three main questions from the Storytelling Card Deck and found that "people immediately engaged with Explore150's ideas!"
Our Community Partnership Coordinator, Liam O'Doherty, also took a different approach by tracing Canadian history through the Pan Am trail in Toronto. From HTO Park to Fort York, Liam wanted Canadians to focus on the idea that it is "the diversity of peoples that we share this journey & country with, that makes us great."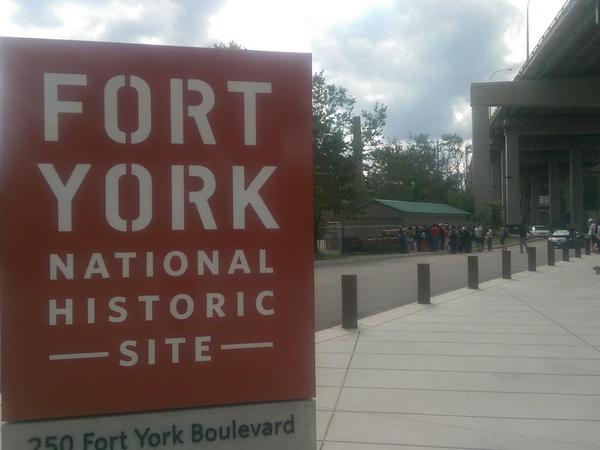 We also reached across the country to Coquitlam, BC where Jasia Ho had set up a booth in Town Centre Park. Though there were tons of other booths in the park that day, Jasia was able to engage people young to old in a dialogue by asking them to talk about a place in Canada where they have seen change happen.
Between the hundreds of waving flags to the amazing Explore150 swag, the red and white enthusiasm could be felt across Canada and we were so honoured to share this day with the hundreds of people that came to visit us!
However, not only did we celebrate Canada's present, we also took the time to reflect on its past. Lindsay, one of our Explore150 team members, also had the opportunity to visit leaders at the Adaka Festival in Yukon to talk about land, leadership, and identity.
We are incredibly impressed by the amount of support and enthusiasm we received on Canada day, but we want the celebration to continue!
Explore150 is now encouraging youth across the country to get involved in the Summer Adventure Challenge!
We want youth to find natural, cultural, and historic places to highlight in their communities and across the country. Once they've identified a place we want them to create an adventure and invite their friends to sign up!
Not only is this an amazing opportunity for youth to connect and explore the country, but we are also giving away two $1,000 scholarships and other fun prizes just for participating!
We want to continue commemorating Canada and we're asking you to help!